Nucked!: Misadventures with the IDORA PARK EXPERIENCE NINJAS (Paperback)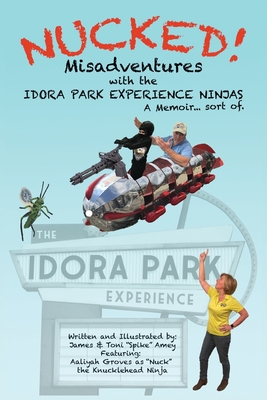 $18.99

Usually Ships in 1-5 Days
Description
---
NUCKED Misadventures with the IDORA PARK EXPERIENCE NINJAS is a memoir... sort of.
Hang on tight as you join the Ameys and their trusty sidekick, Nuck, a havoc causing 3'3" tall knucklehead ninja, on a series of hilarious, inspiring and sometimes heartbreaking misadventures as the three follow every lead, for better or worse, on their way to creating The Idora Park Experience.
The unlikely trio will have you crying with laughter, cheering in victory, screaming out in warning and on rare occasion cursing in defeat, as they criss-cross the country pursuing long lost artifacts from Idora Park, a beloved amusement park in Youngstown, Ohio, that died decades ago as a result of a tragic fire and the dying steel industry.
In NUCKED you'll learn the answers to the three questions the Ameys hear most often: "How did you get started doing this?", "How did you get all this stuff?", and "Are you nuts?"
Well, that last one, they leave for you to decide.
About the Ameys and The Idora Park Experience
James "Jim" Amey, like so many Youngstown, Ohio, natives, spent much of his childhood at Idora Park, an amusement park located on the city's south side. In 1976 at the age of eighteen, with no local job prospects at hand, Jim joined the military and left Youngstown. It would be 17 years before he'd walk the grounds of Idora Park again and by that time, it had been dead almost 10 years.
Trespassing onto the old Idora Park property (It's okay, everyone does it), Jim and his wife Toni (he calls her Spike, but that's another story...) were shocked and heartbroken to see Youngstown's beloved Idora Park abandoned, dilapidated and disappearing from existence.
The Ameys spent the next 20 years collecting "stuff" from Idora Park as a way of holding on to the memories. What started out as an event poster, ticket stub, or game prize, here and there, eventually became parts to rides and structures and a full-blown obsession (aka passion). Along the way, they met some amazing (and oftentimes odd) people and had some crazy and unbelievable adventures.
Their experiences along with the realization that they had inadvertently become the curators of a large part of the heart, soul, and joy that was once Youngstown, led them to believe there must be a higher purpose to what they were doing... otherwise, they were just hoarders. They knew they needed to find a way to share their experiences and collection with others.
In 2013 they built a 4400 square foot building next to their home in Canfield, Ohio, to house the enormous collection of Idora Park artifacts and in April of 2014, 30 years after the fire that destroyed Idora Park, they welcomed over 1,000 people to the grand opening weekend of The Idora Park Experience.
Because of local zoning issues, the museum only opens a few days each year but has had more than 10,000 visitors to date and enjoys a large social media following.
The Ameys are the authors of the book, "Lost Idora Park," published in 2019 by Arcadia Publishing.