Eat Like Walt: The Wonderful World of Disney Food (Hardcover)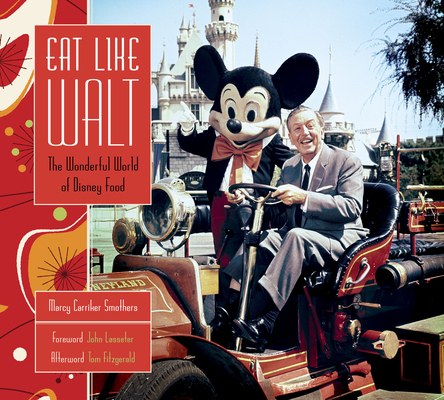 $35.00
Usually Ships in 1-5 Days
Description
---
Eat Like Walt, explores the lore of each land, beginning with Main Street, U.S.A., an homage to Walt's childhood home of Marceline, Missouri, to Tomorrowland, set in futuristic 1986, a year Disney would not live long enough to see.
Although Disneyland opened in 1955, its culinary history dates back to 1923 when Walt Disney first arrived in Hollywood. Walt was a simple eater yet a big dreamer. By 1934, four years before his first feature film, Snow White and the Seven Dwarfs, would be released, Mickey Mouse had made him famous enough to have a recipe published in Better Homes & Gardens magazine.
Ask fans what Walt's favorite food was and most will say, "Chili." Chili has a cult status at Disneyland. People want to eat what Walt ate, the way he ate, where he ate it.
Searching for that perfect gift for the Disney theme park fan in your life? Explore more archival-quality books from Disney Editions:
Holiday Magic at the Disney Parks
The Disney Monorail: Imagineering a Highway in the Sky
Walt Disney's Ultimate Inventor: The Genius of Ub Iwerks
One Day at Disney: Meet the People Who Make the Magic Across the Globe
Marc Davis in His Own Words: Imagineering the Disney Theme Parks
Yesterday's Tomorrow: Disney's Magical Mid-Century
Maps of the Disney Parks: Charting 60 Years from California to Shanghai
The Haunted Mansion: Imagineering a Disney Classic
Poster Art of the Disney Parks

About the Author
---

Marcy Carriker Smothers is a noted personality in the Northern California world of food and dining. She does two radio shows--one with the Food Network's Guy Fieri on The Food Guy and Marcy Show and one with Clark Wolf called At the Table. Her love of all things Disney but especially Disneyland inspired her to delve into Walt Disney's world of food. She previously authored Snacks--Adventures in Food Aisle by Aisle.

Praise For…
---
"By far one of my favorite books on Disney history. Yes, Disney history. It takes a unique look at Walt and Disneyland through food, what he liked, what was and still is served in the park."
—
Huffington Post
One of "19 great coffee table books for Disney fans"
—
Business Insider
One of "20 Books Every True Disney Fan Should Have in Their Collection"
—
POPSUGAR
"Marcy Carriker Smothers has produced a book that is far-reaching in its scope and offers a new perspective on Walt Disney, culinary life at his studio, and how food figured in his planning of Disneyland."
—
Brian Sibley, writer, broadcaster, and Disney scholar
"Smothers' creation isn't a cookbook. It's a history book with recipes, one that required travel, two years of researching, writing, and a dogged determination to tell a tale about Disneyland that had never been told before. . . . The book is filled with intimate photos-some never before published-of Walt with family members, friends, big shots and coworkers."
—
Orange County Register
"New & Noteworthy"
—
The New York Times?January 22, 2018
"She's known to fans of her previous food-based TV and radio programs. So it's not exactly a surprise that Marcy Carriker Smothers' latest book is about her two key interests-it's called
Eat Like Walt
. Adventureland, Frontierland, Fantasyland, Tomorrowland and especially Main Street, U.S.A. each gets its own chapter, with details that even a Mouseketeer might never have known, or has forgotten."—
Sonoma Index-Tribune, Sonoma, California
"Thanks to a generous helping of insider-type historic photographs and drawings, colorful graphics and a passionate narrative, it sweeps the reader along for the ride. And it's a good one."
—
The Press Democrat, Santa Rosa, California